Roof Installation, Replacement & Repair Services – Denver, Colorado
For Denver area residential and commercial property owners, keeping a high-quality roof over their heads is important. Today's advanced materials technology has lead to extraordinary long lives for all types of roofs, but replacements and new installations still require many choices, including materials, cost and the contractor.
At Incline Roofing, our long history of installing affordable and durable roofs throughout the greater Denver metro area, including Boulder, has led to our recognition as one of Colorado's leading roofing companies. From our free evaluations and cost estimates through the installation of a new roof that will protect your home or commercial property for decades to come, we make quality and customer satisfaction our highest priorities.
Full-Service Roof Installation & Repair Contractor
On our website, you'll find the information you need to understand a wide range of options, the cost and how to choose the right company. We know that information is the key to making your best choices and saving money. Click the links below and elsewhere on our website to find the information you need.
Durable, Affordable Roofs & Complete Customer Satisfaction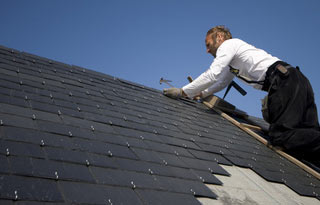 Our company is locally owned and is not the largest roofing contractor in the area. We don't send salesmen around various cities and neighborhoods in the Denver and Boulder area to solicit jobs or advertise constantly on television and radio. We let our excellent reputation in top-quality work and customer service speak for itself, and depend largely on word of mouth recommendations from our many satisfied customers. When you contact us for a free, no-obligation evaluation and a cost estimate, you won't get a high-pressure sales pitch from us. Instead, we'll give you accurate information about the condition of your current roof, show you all of your options in shingles, explain how we install long-lasting roofs, give you a complete, accurate cost estimate and then let you make your own decision. Call us today and let us show you how Incline Roofing's dedication to performance makes all the difference.