Colorado Roof Replacement Service in Denver & Boulder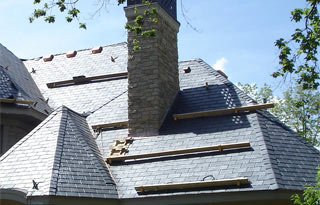 Roofing shingles currently on the market are designed to protect homes and buildings for decades or even a lifetime. For homeowners and commercial property owners, thinking about the roof over their heads isn't something that comes up very often. Still, every roof has a lifetime, and will eventually need to be replaced. Even though it's an infrequent need, as long as the existing roof is of good materials and is installed properly, it's worth thinking about from time to time. At our Colorado roofing company, replacement roofs make up a large percentage of our business. When a replacement service is needed for whatever reasons, it's a major investment, so we make quality, durability and workmanship our highest priorities. Is your roof in need of replacement? If you're wondering about that, here are some things to consider. Click the links below for complete information on these issues:
As a leading Denver roofing contractor, we work to provide clear, objective answers to a wide range of questions property owners ask us about their roof. When you contact us for a free, no-obligation roof evaluation and estimate, you'll be able to ask us any question you may have. You can rely on our answers to help you make your own decisions. Our dedication to complete customer service means you'll have the facts you need.
Top-Rated Denver Roofing Services in Colorado
In our two decades of serving the roofing needs of property owners throughout the Denver metro area, we've earned our A+ Better Business Bureau rating through competitive pricing, top quality materials and workmanship and by focusing on quality throughout every job we do. Part of that process is helping homeowners and commercial property owners understand the roofing materials and the installation process. We understand that good decisions come from accurate information provided in an objective way to each customer. Contact us today and let us show you how we've earned our reputation as a high-quality roofing contractor in Colorado.