Choose the Right Roofing Materials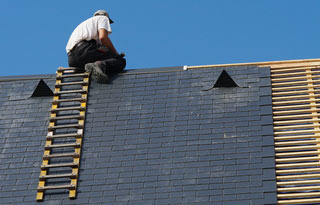 Homeowners and commercial property owners in the Denver area know that Colorado's tough weather conditions throughout the year make high-quality roofing especially important. With the snowstorms, high winds, strong thunderstorms, hail and the glaring sun of our high altitude city and surrounding foothills, only a durable roof can provide the enduring protection needed for long life and value. As a leading roofing service contractor in Denver, we've identified the best shingles and other materials from America's top manufacturers that can handle our local weather conditions. We also know that proper installation of those materials, to meet or exceed manufacturers' specifications, is also essential. Click the links below to learn more about all of the types of roofing we supply and install for our Colorado customers:
Whatever the Roofing Type, Our Roofers Are the Best Choice in Denver, CO
As Colorado's leading roofing contractor, our two decades of service to the Denver metro area, including Boulder area communities, is based on providing top-quality installation of the complete range of roofing materials. Our seasoned, superbly trained roofing craftsmen have the skills and experience needed to handle any roofing job, regardless of materials. For every roofing material, our meticulous craftsmanship and adherence to the most demanding manufacturer's standards is your assurance of atop quality roof that will protect your property for decades to come. Our prices are always competitive, but our total dedication to quality makes us Denver's best choice in roofing. Contact us today for a free, no-obligation consultation and estimate for your roof.